A Glitch-Social Fediverse Instances List?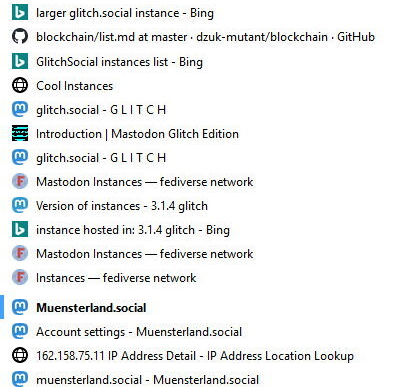 ---
Glitch-Social — Instances list is really needed!
On June 3, I wrote a Toot at my new account, found late on the previous night. (the busy tabs list mentioned is the banner above)
A picture of my busy Tabs list in #Waterfox browser shows that I really was looking for some good GlitchSocial instances.
Had been intensively searching for a list (non-existant, afaik) of Glitch-Social instances. They tend to be blended in with generic mastodon ones, so it was quite a chore. In a Blog page about this, I wrote:
[ I WILL provide that list soon — there is a need ]
---
And now, here it is.
Thanks to the extensive listings of all Mastodon nodes at The-Federation.info, I managed to sort all of them by software version.
And then copied out all the 'glitch' ones. [ as listed, December 27, 2020 ]
---
Why I had been thinking about a better Instance. [Part 3]
Back in June, 2020 I had decided to look for a better instance for my main account. I had various reasons for that, one of the most important being I wanted an account at a Glitch-Social instance, which supports many advanced features, compared to the plain Mastodon ones.
Things like : MarkDown text formatting support. Larger maximum Toot sizes. Finer UI controls and many other advances not present in the main Mastodon branch.
I found one – and wrote a nice Blog page about it, which has been popular. It has been my Home in the Fediverse since the June. Many thanks to Niklas, @nipos@muensterland.social for the service. 👍🙂
---
This page created entirely in MarkDown language. Thank you for reading, feel free to comment about this post – reach me at my Writer's Lounge.